Barre Hop - wear sneakers
This class is taught by: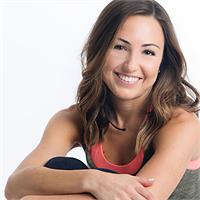 "There is a unique story to everyone who walks in our doors, and I love being a part of their journeys toward health."
Katie's sweet smile quickly turns to business in her tough, well planned sequences of working one body part to the next. With loud, fun music, her classes inspire each client to listen to their own bodies and push past their perceived comfort zones. She loves catering to the unique personalities and fitness levels of clients who each come to work their hardest, appreciating the community of support that brings it all together. Her biggest challenge yet? Motherhood: "It has exposed my weaknesses, my selfishness, my desire for controlling my own little world and challenged me to change for the better. We never know we can do something until we try - and we never become stronger unless we rise to the challenge."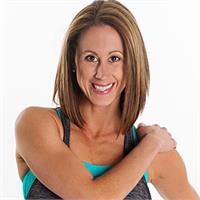 "On our mats, we're all working towards the same goal of improving ourselves so we can better contribute to our families, jobs and communities… it's so much more than just a workout."
A powerhouse not to be taken lightly, Sadie rocks our studios with her tough coaching and even tougher moves - but clients love a 'Sadie class' to strengthen more than just their bodies. "The passion, positivity, and clarity I gain from our studios is unmatchable and makes me thrive," she says, "I couldn't imagine my life without this community of women who support each other without judgment." Following her son's diagnosis of leukemia, she witnessed the full effect of such a supportive community - and knows our clients come to Fusion not only to get the best workout in KC, but as an addition to, and to gain encouragement for, their lives.
This class is a blast as you hop back and forth between cardio sequences and toning moves at the barre. The muscle group focus is strategic to maximize your workout and to keep your mind and heart rate guessing all hour!
Upcoming classes:
Sign Up

Tue

Mar 28 8:20 am - 9:20 am

with

Katie

Hirleman




Sign Up

Thu

Mar 30 9:15 am - 10:15 am

with

Sadie

Durbin




Sign Up

Mon

Apr 03 6:00 pm - 7:00 pm

with

Julie

Schultz




Sign Up

Tue

Apr 04 8:20 am - 9:20 am

with

Katie

Hirleman




Sign Up

Thu

Apr 06 9:15 am - 10:15 am

with

Sadie

Durbin




Sign Up

Mon

Apr 10 6:00 pm - 7:00 pm

with

Julie

Schultz




Sign Up

Tue

Apr 11 8:20 am - 9:20 am

with

Katie

Hirleman




Thu

Apr 13 9:15 am - 10:15 am

with

Sadie

Durbin




Mon

Apr 17 6:00 pm - 7:00 pm

with

Julie

Schultz




Tue

Apr 18 8:20 am - 9:20 am

with

Katie

Hirleman




Thu

Apr 20 9:15 am - 10:15 am

with

Sadie

Durbin




Mon

Apr 24 6:00 pm - 7:00 pm

with

Julie

Schultz




Tue

Apr 25 8:20 am - 9:20 am

with

Katie

Hirleman




Thu

Apr 27 9:15 am - 10:15 am

with

Sadie

Durbin




Mon

May 01 6:00 pm - 7:00 pm

with

Julie

Schultz




Tue

May 02 8:20 am - 9:20 am

with

Katie

Hirleman




Thu

May 04 9:15 am - 10:15 am

with

Sadie

Durbin




Mon

May 08 6:00 pm - 7:00 pm

with

Julie

Schultz




Tue

May 09 8:20 am - 9:20 am

with

Katie

Hirleman




Thu

May 11 9:15 am - 10:15 am

with

Sadie

Durbin