Barre Hop - wear sneakers
This class is taught by: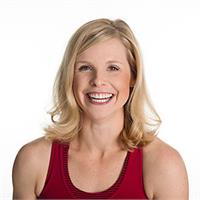 "I love to watch a client that has walked into class looking tired, stressed and overwhelmed - leave with a new sense of self, positive attitude and feeling of accomplishment."
Stephanie began dancing as a young girl - studying in a unique opportunity at age 16 began her professional career and lifelong love of ballet and fitness. Thriving on the structure, challenge and focus of being at the barre, Stephanie brings her engrained discipline to each class she teaches. "Fusion has been my happy place since the day I started after the birth of my second daughter - where I could come for an hour to challenge myself, accomplish a goal, and get away from outside pressures," she says. Loving our intense, high energy style at Fusion as a client for years, she began as an instructor knowing each class is "so challenging you must be able to smile and laugh a bit while you're doing it - very similar to my outlook on life."
This class is a blast as you hop back and forth between cardio sequences and toning moves at the barre. The muscle group focus is strategic to maximize your workout and to keep your mind and heart rate guessing all hour!
Upcoming classes:
Sign Up

Thu

Aug 23 9:30 am - 10:30 am

with

Stephanie

Eppler




Sign Up

Thu

Aug 30 9:30 am - 10:30 am

with

Stephanie

Eppler




Thu

Sep 06 9:30 am - 10:30 am

with

Stephanie

Eppler




Thu

Sep 13 9:30 am - 10:30 am

with

Stephanie

Eppler




Thu

Sep 20 9:30 am - 10:30 am

with

Stephanie

Eppler




Thu

Sep 27 9:30 am - 10:30 am

with

Stephanie

Eppler




Thu

Oct 04 9:30 am - 10:30 am

with

Stephanie

Eppler




Thu

Oct 11 9:30 am - 10:30 am

with

Stephanie

Eppler




Thu

Oct 18 9:30 am - 10:30 am

with

Stephanie

Eppler




Thu

Oct 25 9:30 am - 10:30 am

with

Stephanie

Eppler




Thu

Nov 01 9:30 am - 10:30 am

with

Stephanie

Eppler




Thu

Nov 08 9:30 am - 10:30 am

with

Stephanie

Eppler




Thu

Nov 15 9:30 am - 10:30 am

with

Stephanie

Eppler




Thu

Nov 22 9:30 am - 10:30 am

with

Stephanie

Eppler




Thu

Nov 29 9:30 am - 10:30 am

with

Stephanie

Eppler




Thu

Dec 06 9:30 am - 10:30 am

with

Stephanie

Eppler




Thu

Dec 13 9:30 am - 10:30 am

with

Stephanie

Eppler