A*List - wear sneakers
This class is taught by:
"There is a unique story to everyone who walks in our doors, and I love being a part of their journeys toward health."
Katie's sweet smile quickly turns to business in her tough, well planned sequences of working one body part to the next. With loud, fun music, her classes inspire each client to listen to their own bodies and push past their perceived comfort zones. She loves catering to the unique personalities and fitness levels of clients who each come to work their hardest, appreciating the community of support that brings it all together. Her biggest challenge yet? Motherhood: "It has exposed my weaknesses, my selfishness, my desire for controlling my own little world and challenged me to change for the better. We never know we can do something until we try - and we never become stronger unless we rise to the challenge."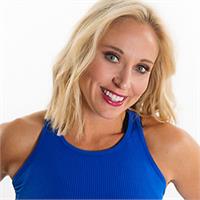 "No matter how blah I feel walking into the studio, within the first 5 minutes of class it's as if my brain has been completely cleared of all negativity - Fusion is my therapy."
"After having two kids I needed something to kick my body into gear, and I found it at Fusion," she says, loving the opportunity every day to spread that same benefits to clients. Francie's sense of humor creates a fun and confident environment to lead clients through challenging and creative sequences - she operates at top speed and enjoys motivating clients to push themselves harder than they think possible. "Not a day goes by that I leave the studio without having had a client impact my life in a positive way - Fusion is an adrenaline rush that sticks with you for the rest of the day."
This no jumping, heart-pumping hour will alternate between
no-impact aerobic cardio intervals and arm and ab toning sequences. Perfect for newbies or Fusion veterans looking to increase effectiveness and body awareness, this class will simplify choreography and hone in on form. This class will shock your body, expect to feel your hard work the next day!
Upcoming classes:
Sign Up

Mon

Sep 25 5:30 am - 6:30 am

with

Katie

Hirleman




Sign Up

Mon

Sep 25 8:20 am - 9:20 am

with

Francie

Bradley




Sign Up

Wed

Sep 27 10:00 am - 11:00 am

with

Ami

Kujawa




Sign Up

Thu

Sep 28 8:30 am - 9:30 am

with

Katie

Hirleman




Sign Up

Mon

Oct 02 5:30 am - 6:30 am

with

Katie

Hirleman




Sign Up

Mon

Oct 02 8:20 am - 9:20 am

with

Francie

Bradley




Sign Up

Wed

Oct 04 10:00 am - 11:00 am

with

Ami

Kujawa




Sign Up

Thu

Oct 05 8:30 am - 9:30 am

with

Katie

Hirleman




Mon

Oct 09 5:30 am - 6:30 am

with

Katie

Hirleman




Mon

Oct 09 8:20 am - 9:20 am

with

Francie

Bradley




Wed

Oct 11 10:00 am - 11:00 am

with

Ami

Kujawa




Thu

Oct 12 8:30 am - 9:30 am

with

Katie

Hirleman




Mon

Oct 16 5:30 am - 6:30 am

with

Katie

Hirleman




Mon

Oct 16 8:20 am - 9:20 am

with

Francie

Bradley




Wed

Oct 18 10:00 am - 11:00 am

with

Ami

Kujawa




Thu

Oct 19 8:30 am - 9:30 am

with

Katie

Hirleman




Mon

Oct 23 5:30 am - 6:30 am

with

Katie

Hirleman




Mon

Oct 23 8:20 am - 9:20 am

with

Francie

Bradley




Wed

Oct 25 10:00 am - 11:00 am

with

Ami

Kujawa




Thu

Oct 26 8:30 am - 9:30 am

with

Katie

Hirleman