YFS - Yoga Fusion Style
This class is taught by: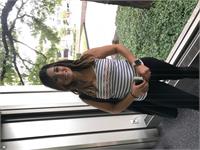 April began her yoga practice in 2011 which originally started as something to do do just for fun, but ended up turning into a life changing journey that has truly transformed her entire life, just like Fusion- what started out as a way to push past her limits physically- the high energy and incredibly strong community here has truly transformed her from the inside out.
With roots in vinyasa and deep stretch, April has a way of blending and teaching an all levels class. Her main focus as a teacher is to connect with her clients and create a space where clients feel comfortable, confident and empowered in their practice. I look forward to bringing the calm and balance that is so needed to round out the fast paced high energy level we all know and love so much.
"Yoga is not just about touching your toes, it's about what you learn on the way down."
This yoga flow will help you strengthen and lengthen your entire body! In true Fusion Fitness style, your heart rate will be elevated and sweat will roll off your brow. You'll also get to restore and stretch, leaving you feeling energized and strong.
Upcoming classes:
Sign Up

Tue

Jan 22 5:30 pm - 6:30 pm

with

April

Trout




Sign Up

Tue

Jan 29 5:30 pm - 6:30 pm

with

April

Trout




Tue

Feb 05 5:30 pm - 6:30 pm

with

April

Trout




Tue

Feb 12 5:30 pm - 6:30 pm

with

April

Trout




Tue

Feb 19 5:30 pm - 6:30 pm

with

April

Trout




Tue

Feb 26 5:30 pm - 6:30 pm

with

April

Trout




Tue

Mar 05 5:30 pm - 6:30 pm

with

April

Trout