CARDI-YO!
This class is taught by: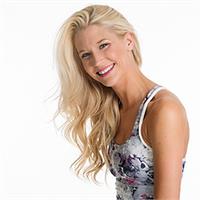 "The motivation, support, and love of this Sweaty Sisterhood is truly palpable in every class."
Meghann's ballet background is obvious in her graceful movements - but a minute in one of her classes shows the other side of her, too - loud, strong, and motivating. From her vibrant music to her move combinations dedicated to toning and strengthening long, lean muscles, clients are led through a killer workout each time. "When I first came to Fusion, I had never felt such a full body workout and transformation from a class - not to mention the completely infectious energy radiating from the studio." Meghann's fitness knowledge and passion for teaching Fusion is apparent - she guarantees to provide clients with an hour to get the most out of each and every class she teaches.
This class will elevate your fitness by maximizing heart rate and increasing endurance, balance, flexibility, and strength all in one. Start with 30 minutes of cardio kickboxing ... squat, jump, kick, and jab yourself into a sweaty mess. Take a quick ZEN turn into and slow down and strengthen with 30 minutes of power yoga flow. Leave feeling sweaty, strong, and rejuvenated.
Upcoming classes:
Sign Up

Wed

Aug 22 5:30 pm - 6:30 pm

with

Shannon

O'Neill




Sign Up

Sun

Aug 26 3:00 pm - 4:00 pm

with

Meghann

Martens




Sign Up

Wed

Aug 29 5:30 pm - 6:30 pm

with

Shannon

O'Neill




Wed

Sep 05 5:30 pm - 6:30 pm

with

Shannon

O'Neill




Sun

Sep 09 3:00 pm - 4:00 pm

with

Shannon

O'Neill




Wed

Sep 12 5:30 pm - 6:30 pm

with

Shannon

O'Neill




Sun

Sep 16 3:00 pm - 4:00 pm

with

Shannon

O'Neill




Wed

Sep 19 5:30 pm - 6:30 pm

with

Shannon

O'Neill




Sun

Sep 23 3:00 pm - 4:00 pm

with

Shannon

O'Neill




Wed

Sep 26 5:30 pm - 6:30 pm

with

Shannon

O'Neill




Sun

Sep 30 3:00 pm - 4:00 pm

with

Shannon

O'Neill




Wed

Oct 03 5:30 pm - 6:30 pm

with

Shannon

O'Neill




Sun

Oct 07 3:00 pm - 4:00 pm

with

Shannon

O'Neill




Wed

Oct 10 5:30 pm - 6:30 pm

with

Shannon

O'Neill




Sun

Oct 14 3:00 pm - 4:00 pm

with

Shannon

O'Neill




Wed

Oct 17 5:30 pm - 6:30 pm

with

Shannon

O'Neill




Sun

Oct 21 3:00 pm - 4:00 pm

with

Shannon

O'Neill




Wed

Oct 24 5:30 pm - 6:30 pm

with

Shannon

O'Neill




Sun

Oct 28 3:00 pm - 4:00 pm

with

Shannon

O'Neill