Butt Camp - wear sneakers
This class is taught by: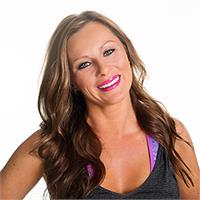 "The Fusion community is such a rare find - our environment of support, encouragement and kindness is so incredibly special and has made my life so much richer."
Hugely passionate about helping others find their own strength from the years she has spent building her own, Jos brings her heart and soul to every class and client. Her dedicating energy in classes and our AmpCamp program radiates her love of fitness as a way to challenge ourselves, be stronger than yesterday, and push past our self-made limitations. AmpCamp coaching close to her heart, she teaches clients about the importance of pushing through struggles - whatever they may be - coming out on the other side, she says, exposes our weaknesses, rips open battles scars we need to heal and forces us to be the very strongest that we can be. Jos stresses the importance of being grateful each day for our healthy bodies by taking care of them through fitness, nutrition, and self appreciation. "I firmly believe the strength and discipline cultivated in our studios translates to real life growth - fitness is about so much more than skinny jeans or a number on the scale."
"To see our Fusion community of women making such positive changes, both physical and mental, and to be a part of this amazing group - is hard to put into words."
Focusing her classes on making the hour the most beneficial for every body in the room, Katie's enthusiasm digs deep and her body inspires those last few reps. A mom of three ("nothing in the world can compare to the strength and power of a woman giving birth"), Katie is passionate about helping the next generation of girls focus on loving themselves and being healthy. Aside from regular killer classes, Katie also created Fusion Fierce - a Fusion class designed for tween girls. Inspiring them each week with a fun workout and positive conversations, her sunshine smiles radiate throughout our studios.
BUM, TUSH, BACKYARD, RUMP SHAKER, BOOTY, TAIL, TRUNK.. whatever you call it...If you want your backside to turn heads, plan on being at this class!

The form, cues and techniques you learn in this class will help you maximize your glute workouts in all Fusion Fitness classes.