Rhythm Nation
This class is taught by: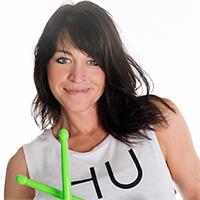 "The community aspect of Fusion is far greater than anything I've experienced in this city - we support each other and pick each other up if we falter."
Her boisterous & confident presence as an instructor comes from her years as a high school teacher - and we're not quite sure where her other amazing energy comes from. Bringing the Pound workout to KC, she started with Fusion ("my original #poundposse"), and teaches at other studios throughout the city. Pound's unique brand of "rock out workout" has clients use drumsticks to literally rock out ("I do not workout without music because that is simply blasphemy"), while they up their cardio endurance and build muscle tone. Jodie's excitement over teaching a new track is infectious, and the hour flies by as she sings along, motivates clients to let loose and enjoy, and if we're lucky, sometimes even throws in a few dance moves. "Fitness is a lifestyle, not a phase," she explains, and her carefree passion of teaching Pound class never ceases to impress (the experience or the soreness the next day.)
Come to get down!  Please join Jodie S. and K*Brink for a workout that promises to be funky, fresh and fun!  We will get those heart rates soaring with kickboxing and dancing mixed with intervals of targeted body part training for a full body workout.  Get ready to move to the beat as only this sweaty sisterhood can!