Biker Bootcamp
This class is taught by: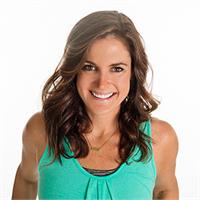 "An energized room full of driven, goal oriented people working hard and sweating like crazy - it's kind of like a giant dance party with the best music and the most fun people in the city."
Our original Weight Loss Boot Camp'er, Shawna found out what she was capable of and couldn't wait to share the experience with other women with similar goals. "The format in WLBC is completely based on individual improvement - this program (and Fusion in general) is so successful because we all WANT to be here. The clients, the instructors - we are all working on the same goals together. The more positivity and power we surround ourselves with, the better our success." An awesome cheerleader and motivator, she focuses on why our health is so important and how we each deserve to get the most out of our lives, starting with taking care of ourselves. "During those 12 weeks of my WLBC years ago, Darby tricked me into running my first 10K and doing a Burn 1000 in the same day," she laughs, " but I was so amazed at how my body could perform. It was a moment that I realized, I really could accomplish anything. Just like strengthen our bodies, we also train our mind to overcome and be strong. That's the key."
This high-energy class will challenge your body and shake up your workout routine! High cardio spin drills come together with basic, yet effective plyometrics, intervals and circuits off the bike. This biker bootcamp will boast your calorie burn for the day and leave you feeling your personal best!
Upcoming classes:
Sign Up

Fri

Dec 01 12:00 pm - 12:45 pm

with

Shawna

Wright




Fri

Dec 08 12:00 pm - 12:45 pm

with

Shawna

Wright




Fri

Dec 15 12:00 pm - 12:45 pm

with

Shawna

Wright




Fri

Dec 22 12:00 pm - 12:45 pm

with

Shawna

Wright




Fri

Dec 29 12:00 pm - 12:45 pm

with

Shawna

Wright




Fri

Jan 05 12:00 pm - 12:45 pm

with

Shawna

Wright




Fri

Jan 12 12:00 pm - 12:45 pm

with

Shawna

Wright




Fri

Jan 19 12:00 pm - 12:45 pm

with

Shawna

Wright




Fri

Jan 26 12:00 pm - 12:45 pm

with

Shawna

Wright




Fri

Feb 02 12:00 pm - 12:45 pm

with

Shawna

Wright




Fri

Feb 09 12:00 pm - 12:45 pm

with

Shawna

Wright




Fri

Feb 16 12:00 pm - 12:45 pm

with

Shawna

Wright




Fri

Feb 23 12:00 pm - 12:45 pm

with

Shawna

Wright




Fri

Mar 02 12:00 pm - 12:45 pm

with

Shawna

Wright




Fri

Mar 09 12:00 pm - 12:45 pm

with

Shawna

Wright




Fri

Mar 16 12:00 pm - 12:45 pm

with

Shawna

Wright