Fusion 101
This class is taught by: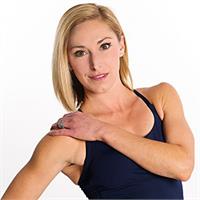 "Fusion was the most challenging class I had ever taken - I truly believe this concept is the ultimate recipe for fitness success."
Equipped with a deep understanding of the body from her years as a ballet dancer and fitness trainer, Brooke knows what it takes to make the transformations her clients desire. Whether it's building cardio endurance or focusing on building stronger muscles, clients love her attention to form and pushing them to their max. "Fusion's method is the answer for all of us - providing a solid emphasis on forming lean muscle, pure devotion to creating a strong core, and an upbeat, fast-paced class to maintain an elevated heart rate - you can't go wrong." Imitating her amazing form provides constant motivation to keep moving during class, and Brooke's sense of humor makes the time move quickly throughout her hour-long, full body workouts.
This is Fusion at its finest, our original creation, and our fundamental class for our entire approach to shock your body. This class will make you burn and make you sweat but you will be totally focused on form and technique. Become familiar with our fundamental workout moves. Great class for beginners but not to be underestimated by our vets.
Upcoming classes:
Sun

Dec 10 12:00 pm - 1:00 pm

with

Brooke

Degnan