Fusion Fire
This class is taught by: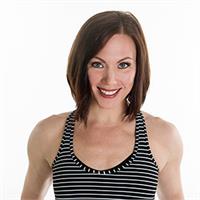 "I love the contagious atmosphere of Fusion - everyone coming to work their bodies to the max!"
Shauna's passion for leading a class full of clients stems from her years as a middle school teacher - helping people change their outlooks from negative to positive is what inspires her most. Shauna's energy spreads throughout the room and she loves seeing clients' everyday dedication to bettering themselves. From her killer music (she loves a good Throwback Thursday full of old school R&B) to her beautiful posture & form, Shauna's classes will challenge your body and strengthen your confidence as you keep up with her creative moves.
Just when you thought it couldn''t get much tougher, we created this HOT MESS. The room is heated - the moves are tough and the outcome is beautiful! Fusion Fire is the epitomal combination to gain long lean muscles and melt chubby unwanted areas. The room will be heated to 95 degrees allowing your muscles to stretch and increase flexibility. Impact free movement combined with position holds and pulses will get your body into it''s HOTTEST shape ever! THIS IS CLASS IS ADVANCED! Not for the weak hearted or first timer.
Upcoming classes:
Sign Up

Sun

Apr 23 3:00 pm - 4:00 pm

with

Ami

Kujawa




Sign Up

Sun

Apr 30 3:00 pm - 4:00 pm

with

Shauna

Pierce




Sign Up

Sun

May 07 3:00 pm - 4:00 pm

with

Shauna

Pierce




Sun

May 14 3:00 pm - 4:00 pm

with

Shauna

Pierce




Sun

May 21 3:00 pm - 4:00 pm

with

Shauna

Pierce




Sun

Jun 04 3:00 pm - 4:00 pm

with

Shauna

Pierce




Sun

Jun 11 3:00 pm - 4:00 pm

with

Shauna

Pierce




Sun

Jun 18 3:00 pm - 4:00 pm

with

Shauna

Pierce




Sun

Jun 25 3:00 pm - 4:00 pm

with

Shauna

Pierce




Sun

Jul 02 3:00 pm - 4:00 pm

with

Shauna

Pierce




Sun

Jul 09 3:00 pm - 4:00 pm

with

Shauna

Pierce




Sun

Jul 16 3:00 pm - 4:00 pm

with

Shauna

Pierce




Sun

Jul 23 3:00 pm - 4:00 pm

with

Shauna

Pierce




Sun

Jul 30 3:00 pm - 4:00 pm

with

Shauna

Pierce




Sun

Aug 06 3:00 pm - 4:00 pm

with

Shauna

Pierce




Sun

Aug 13 3:00 pm - 4:00 pm

with

Shauna

Pierce




Sun

Aug 20 3:00 pm - 4:00 pm

with

Shauna

Pierce