Kristin's Journey Ride - Cycle Class
This class is taught by: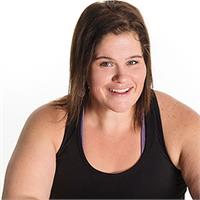 "The most exciting part of Fusion is meeting new people who are ready to change their lives - I want to pay it forward and let everyone know - you can do anything you want."
Kristin's Fusion journey started as a client in our Weight Loss Boot Camps. With over 100 pounds to lose she gave her entire heart to changing her life ("running through the finish line of my first triathlon while my son came up with his sign and ran through it with me was my most amazing moment") - and now loves being a part of helping other women with similar goals. Her struggles, her accomplishments - she is an open book about it all and continues to reach out to women in our boot camps as well as teach her own Fusion Fly class- Kristin's Journey Ride. Full of inspirational music to get hearts pumping and goal-setting in gear, clients get a weekly dose of knowing anything is possible - whether it's a physical or mental challenge - with determination and making a choice to change.
Kristin's weight loss journey is followed by thousands as she's worked off over 150 pounds with Fusion Fitness. This girl has soul, heart and spunk! For all levels of riders, great for beginners.
Upcoming classes:
Sign Up

Sun

Nov 26 9:30 am - 10:15 am

with

Kristin

Brinkman




Sign Up

Wed

Nov 29 6:00 pm - 6:45 pm

with

Kristin

Brinkman




Sign Up

Sun

Dec 03 9:30 am - 10:15 am

with

Kristin

Brinkman




Sign Up

Wed

Dec 06 6:00 pm - 6:45 pm

with

Kristin

Brinkman




Sun

Dec 10 9:30 am - 10:15 am

with

Kristin

Brinkman




Wed

Dec 13 6:00 pm - 6:45 pm

with

Kristin

Brinkman




Sun

Dec 17 9:30 am - 10:15 am

with

Kristin

Brinkman




Wed

Dec 20 6:00 pm - 6:45 pm

with

Kristin

Brinkman




Sun

Dec 24 9:30 am - 10:15 am

with

Kristin

Brinkman