Endurance Ride - Cycle Class
This class is taught by:
"I love the fast paced, high intensity but very intentionally planned classes with no wasted time - the atmosphere is so fun and encouraging."
A self-professed "cardio junkie," Becca loves to bring the energy and get clients moving. "I like to jump in, get super sweaty, heart pounding, high intensity, energetic, fast paced, and "get it done" in one hour," she says, and she's not exaggerating. Clients love how her fitness fanatic side is rounded out with her positive attitude, always willing to stay and chat, sharing her continuing search for self acceptance and love that we are all searching for. "We aren't defined by what we do (accomplishes or failures), by what we have or don't have, or what others think about us. Fusion is full of encouragement to push ourselves further than we normally would - such a positive environment for challenge and growth!"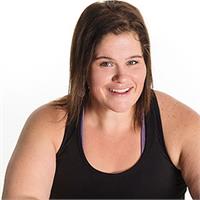 "The most exciting part of Fusion is meeting new people who are ready to change their lives - I want to pay it forward and let everyone know - you can do anything you want."
Kristin's Fusion journey started as a client in our Weight Loss Boot Camps. With over 100 pounds to lose she gave her entire heart to changing her life ("running through the finish line of my first triathlon while my son came up with his sign and ran through it with me was my most amazing moment") - and now loves being a part of helping other women with similar goals. Her struggles, her accomplishments - she is an open book about it all and continues to reach out to women in our boot camps as well as teach her own Fusion Fly class- Kristin's Journey Ride. Full of inspirational music to get hearts pumping and goal-setting in gear, clients get a weekly dose of knowing anything is possible - whether it's a physical or mental challenge - with determination and making a choice to change.
Endurance Ride is 60 minutes of pure endurance building, pure cycling. Come committed to an hour of hills, sprints, jumps, black lights and music so inspiring it will keep your legs moving the full hour.
Upcoming classes:
Sign Up

Sun

Apr 30 8:00 am - 9:00 am

with

Becca

Parisi




Sign Up

Sun

May 07 8:00 am - 9:00 am

with

Becca

Parisi




Sun

May 14 8:00 am - 9:00 am

with

Becca

Parisi




Sun

May 21 8:00 am - 9:00 am

with

Becca

Parisi




Sun

May 28 8:00 am - 9:00 am

with

Becca

Parisi




Sun

Jun 04 8:00 am - 9:00 am

with

Becca

Parisi




Sun

Jun 11 8:00 am - 9:00 am

with

Kristin

Brinkman




Sun

Jun 18 8:00 am - 9:00 am

with

Becca

Parisi




Sun

Jun 25 8:00 am - 9:00 am

with

Becca

Parisi




Sun

Jul 02 8:00 am - 9:00 am

with

Becca

Parisi




Sun

Jul 09 8:00 am - 9:00 am

with

Becca

Parisi




Sun

Jul 16 8:00 am - 9:00 am

with

Becca

Parisi




Sun

Jul 23 8:00 am - 9:00 am

with

Becca

Parisi




Sun

Jul 30 8:00 am - 9:00 am

with

Becca

Parisi




Sun

Aug 06 8:00 am - 9:00 am

with

Becca

Parisi




Sun

Aug 13 8:00 am - 9:00 am

with

Becca

Parisi




Sun

Aug 20 8:00 am - 9:00 am

with

Becca

Parisi