Endurance Ride - Cycle Class
This class is taught by: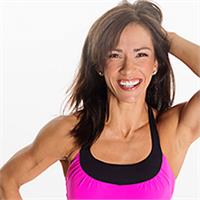 "I love the fast paced, high intensity but very intentionally planned classes with no wasted time - the atmosphere is so fun and encouraging."
A self-professed "cardio junkie," Becca loves to bring the energy and get clients moving. "I like to jump in, get super sweaty, heart pounding, high intensity, energetic, fast paced, and "get it done" in one hour," she says, and she's not exaggerating. Clients love how her fitness fanatic side is rounded out with her positive attitude, always willing to stay and chat, sharing her continuing search for self acceptance and love that we are all searching for. "We aren't defined by what we do (accomplishes or failures), by what we have or don't have, or what others think about us. Fusion is full of encouragement to push ourselves further than we normally would - such a positive environment for challenge and growth!"
"I love how strong I feel punching, kicking, and sweating with a bunch of bad a$$ women!"
Erica is known for her intense, push-you-past-your-limits cardio classes - and she loves every minute of it. "There's never been a time when I've walked out of the studio not feeling better than when I'd walked in - the energy, positivity, and overall awesomeness of our clients is contagious!" Whether its helping a newbie set-up for class or persuading a regular to jump higher or faster, Erica is ever-present and zips throughout the room busting out burpees right next to clients to keep them going. "I absolutely love our environment here of kindness, acceptance, and total support. It pushes me to want to be my best every single day."
Endurance Ride is 60 minutes of pure endurance building, pure cycling. Come committed to an hour of hills, sprints, jumps, black lights and music so inspiring it will keep your legs moving the full hour.
Upcoming classes:
Sign Up

Sun

Aug 19 8:00 am - 9:00 am

with

Becca

Parisi




Sign Up

Sun

Aug 26 8:00 am - 9:00 am

with

Becca

Parisi




Sun

Sep 02 8:00 am - 9:00 am

with

Erica

Creger




Sun

Sep 09 8:00 am - 9:00 am

with

Becca

Parisi




Sun

Sep 16 8:00 am - 9:00 am

with

Becca

Parisi




Sun

Sep 23 8:00 am - 9:00 am

with

Becca

Parisi




Sun

Sep 30 8:00 am - 9:00 am

with

Becca

Parisi




Sun

Oct 07 8:00 am - 9:00 am

with

Becca

Parisi




Sun

Oct 14 8:00 am - 9:00 am

with

Becca

Parisi




Sun

Oct 21 8:00 am - 9:00 am

with

Becca

Parisi




Sun

Oct 28 8:00 am - 9:00 am

with

Becca

Parisi




Sun

Nov 04 8:00 am - 9:00 am

with

Becca

Parisi




Sun

Nov 11 8:00 am - 9:00 am

with

Becca

Parisi




Sun

Nov 18 8:00 am - 9:00 am

with

Becca

Parisi




Sun

Nov 25 8:00 am - 9:00 am

with

Becca

Parisi




Sun

Dec 02 8:00 am - 9:00 am

with

Becca

Parisi




Sun

Dec 09 8:00 am - 9:00 am

with

Becca

Parisi




Sun

Dec 16 8:00 am - 9:00 am

with

Becca

Parisi