Shawna Wright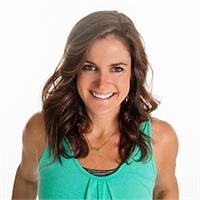 "An energized room full of driven, goal oriented people working hard and sweating like crazy - it's kind of like a giant dance party with the best music and the most fun people in the city."
Our original Weight Loss Boot Camp'er, Shawna found out what she was capable of and couldn't wait to share the experience with other women with similar goals. "The format in WLBC is completely based on individual improvement - this program (and Fusion in general) is so successful because we all WANT to be here. The clients, the instructors - we are all working on the same goals together. The more positivity and power we surround ourselves with, the better our success." An awesome cheerleader and motivator, she focuses on why our health is so important and how we each deserve to get the most out of our lives, starting with taking care of ourselves. "During those 12 weeks of my WLBC years ago, Darby tricked me into running my first 10K and doing a Burn 1000 in the same day," she laughs, " but I was so amazed at how my body could perform. It was a moment that I realized, I really could accomplish anything. Just like strengthen our bodies, we also train our mind to overcome and be strong. That's the key."
Shawna Wright instructs the following:
Put the pedal to the medal for 45-minutes of pure sweat. Spike your heart rate & burn fat with climbs, sprints and jumps for a hardcore calorie burn and full body workout.




Spring is here, summer is next...get ahead of your goals 7 be ready to pull out the summer wardrobe! Join us for the next session of Fusion Fitness WLBC & feel great by May. Over the past 7 years, hundreds of women have lost thousands of pounds...and more importantly, found an incredible environment to kick start a fitness regime & healthy lifestyle.

In additional to losing a significant amount of weight, all the participants: ... Gain muscle mass, increasing metabolism ...Re-gain self confidence ...Increase heart functionality ... Decreased daily stress...improve cardio capacity...

Could you be our next success story?

What will be expected: · 6 week commitment-(March 27-May 5)· Weekly weigh-ins (individuals weight will be kept private, but pounds lost may be celebrated!) · 2 small group training sessions per week · 2 personalized "take home" cardio workouts per week · 1 month membership unlimited classes to Fusion Fitness · Diet advice, suggestions and calorie counting tools provided by our own Registered Dietitian, Michelle Whitmore. Accountability is key!

A bonus for this session...WLBC meets the FusionFly studio!!! A 5 class Fly Pass will be included in your membership! Get ready for the extra pounds to Fly off!

The positive energy and excitement surrounding our past groups is contagious. These women provided each other with support, accountability and advice. Be ready to work hard, eat right and enjoy life more. Do this for yourself, and start the new year right. You could be a size smaller by the the holidays…or more. 6 weeks begins with an orientation & workout on Monday, March 27th 5:30AM Overland Park Racquet Club.

The first group workout will take place Monday, January 16, 5:30AM at Overland Park Racquet Club.

This session will meet every Monday & Friday 5:30-6:30am from January 16-March 10 at Overland Park Racquet Club (91st & Metcalf)

*The first 2 weeks will also offer a 6:40PM Wednesday night bonus BYB class at the OP studio.


WLBC 6 week is priced at $375. This price includes a 1 month membership to Fusion Fitness and 5 free FusionFly passes, 2 BYB studio classes, take home workouts, diet advice & weekly accountability.

Questions: email or call Shawna Wright 816-835-3451 shawnawright2002@yahoo.com

Check out our blog for past success stories

http://fusionfitnesskc.blogspot.com




Summer will be here before we know it & we want you to feel great.

This "Bring Your Best" workshop will keep you accountable, help you establish a fitness routine & kickstart the spring break shopping.

The small group will meet twice a week at Fusion Fitness, Overland Park for a workout & check in. We will also discuss tips, meal ideas, healthy food options, home workouts, 5 Fusion Fly classes (OR 5 Fusion studio classes) & all other things that will help you stay on track during the holiday season.

This group will meet at Fusion Fitness (Fusion Fly), OVERLAND PARK on Mondays & Wednesdays from Noon-1.
Session runs April 3-April 26

Our first session & mini-orientation will take place April 3, from Noon-1PM at Fusion Fly, Overland Park location. This session will introduce you to all aspects of creating or sustaining a healthy lifestyle...with an overall goal to increase your individual health.

The workouts will take place in the Fusion Fly cycling room, where will incorporate high cardio cycling with plenty of toning & fun. The workouts are designed to challenge any level. Regardless of if it has been 10 years or 10 minutes since your last workout, we will make sure you leave the one month session feeling strong, fit & ready for anything. This is your starting point. This is your accountability. This is your time.

Be ready to feel great this holiday season...and get a fitness jump start.

This 4 week, 8 session, workshop is priced at $149.

Childcare will be available during this time!

questions-contact Shawna Wright 816-835-3451 or shawnawright2002@yahoo.com




Bring You Best! Beginner to advanced... it doesn't matter as long as you bring your very best to this hour! This group workout combines cardio intervals, circuit stations and toning sequences to leave you feeling fit and strong! Bring a friend, bring a towel and bring your A-game, this workout is a blast!