Leeze Gaudreau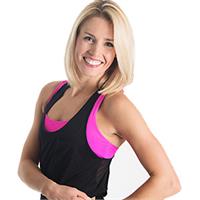 "I love the sisterhood among instructors, staff & clients - there is honestly no better high than teaching a Fusion class."
Leeze's enthusiasm creates high energy classes set to the beat of the music and always a great combination of intense cardio with hard core toning. Radiating the positive vibes of the studio, you can always catch her smiling and giving individual attention to clients during class - making each person known and motivated. A client for many years gaining a longer and leaner physique, she couldn't wait to offer her experiences to other women. "We've got one hour to ourselves when we get away from outside life...I make it worth it each time a client gives me that time!"
Leeze Gaudreau instructs the following:
In it to win it! This 45-minute class leads off with 30 minutes of heart pumping bikini bootcamp and wraps with 15 minutes of total ab dedication. The full body workout without taking a full hour.




Punch, kick and burn your way through this hot and sweaty class. Throw down 30 minutes of heart-pumping cardio followed by 30 minutes of technique-driven toning.