Katie Hirleman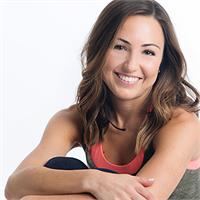 "There is a unique story to everyone who walks in our doors, and I love being a part of their journeys toward health."
Katie's sweet smile quickly turns to business in her tough, well planned sequences of working one body part to the next. With loud, fun music, her classes inspire each client to listen to their own bodies and push past their perceived comfort zones. She loves catering to the unique personalities and fitness levels of clients who each come to work their hardest, appreciating the community of support that brings it all together. Her biggest challenge yet? Motherhood: "It has exposed my weaknesses, my selfishness, my desire for controlling my own little world and challenged me to change for the better. We never know we can do something until we try - and we never become stronger unless we rise to the challenge."
Katie Hirleman instructs the following:
This no jumping, heart-pumping hour will alternate between

no-impact aerobic cardio intervals and arm and ab toning sequences. Perfect for newbies or Fusion veterans looking to increase effectiveness and body awareness, this class will simplify choreography and hone in on form. This class will shock your body, expect to feel your hard work the next day!




Tabatas offer a challenging workout for those who crave the cardio high! This class combines high-intensity exercises performed for 20 seconds with 10 second toning periods between rounds. We lace each tabata round with muscle-specific toning to achieve max results from this hour workout.