Katie Hirleman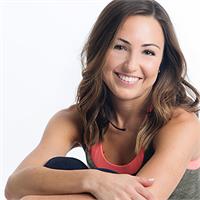 "There is a unique story to everyone who walks in our doors, and I love being a part of their journeys toward health."
Katie's sweet smile quickly turns to business in her tough, well planned sequences of working one body part to the next. With loud, fun music, her classes inspire each client to listen to their own bodies and push past their perceived comfort zones. She loves catering to the unique personalities and fitness levels of clients who each come to work their hardest, appreciating the community of support that brings it all together. Her biggest challenge yet? Motherhood: "It has exposed my weaknesses, my selfishness, my desire for controlling my own little world and challenged me to change for the better. We never know we can do something until we try - and we never become stronger unless we rise to the challenge."
Katie Hirleman instructs the following:
Burn fat and work your arms and abs to the max. You'll be on and off the bike in 10 minute increments throughout this power hour. This full body workout rotates between spin and mat drills.




In it to win it! This 45-minute class leads off with 30 minutes of heart pumping bikini bootcamp and wraps with 15 minutes of total ab dedication. The full body workout without taking a full hour.




All the goodness of Barre packed into 45 minutes! Make the most of your workout and tone your body with this efficiently planned class, focusing on isolation and burnout, you'll be glad you came to our barre!