Becky Schaller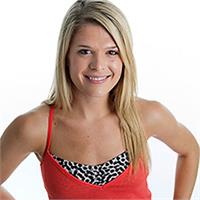 Becky Schaller instructs the following:
In it to win it! This 45-minute class leads off with 30 minutes of heart pumping bikini bootcamp and wraps with 15 minutes of total ab dedication. The full body workout without taking a full hour.




Kristin's weight loss journey is followed by thousands as she's worked off over 150 pounds with Fusion Fitness. This girl has soul, heart and spunk! For all levels of riders, great for beginners.




Cardio, Fusion, Barre Intensity, and a touch of bootcamp are combined into this power hour workout. Fusion Mix will keep your muscles guessing and your heart rate up for a sweat wrenching, sculpting session!




Put the pedal to the medal for 45-minutes of pure sweat. Spike your heart rate & burn fat with climbs, sprints and jumps for a hardcore calorie burn and full body workout.




Our professional mix masters have created the ultimate workout formula! You will be drenched in sweat during this one hour elite body shaping & mind-blowing class. Our combination of 15 minute increments of Bikini Boot Camp, Fusion Mix, HIIT (high intensity interval training), and Fusion promises to torch fat, tone muscles, and leave you in tip-top shape both mentally and physically.




Burn fat and work your arms and abs to the max. You'll be on and off the bike in 10 minute increments throughout this power hour. This full body workout rotates between spin and mat drills.