Becky Schaller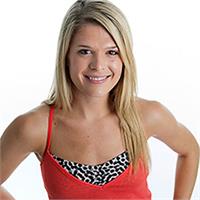 Becky Schaller instructs the following:
BTW (buns thighs and waist) is structured to challenge your body in strength and cardiovascular endurance. This class requires ankles weights (available at Fusion). Maximizing the benefits of ankle weight suspension, we've created resistance training that is OUT OF THIS WORLD! Resistance training + cardio interval training will shock your body to the max with this excitin class. BTW you don't wanna miss it!




Put the pedal to the medal for 45-minutes of pure sweat. Spike your heart rate & burn fat with climbs, sprints and jumps for a hardcore calorie burn and full body workout.




This 45-minute class is a Hiit! Hustle your way through this high intensity interval training session. The perfect combination of cardio intervals and muscle-specific toning will vary your heart rate for max results. This class will create a calorie burn that lasts all day!