Becky Schaller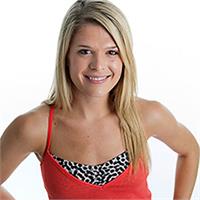 Becky Schaller instructs the following:
Cardio, Fusion, Barre Intensity, and a touch of bootcamp are combined into this power hour workout. Fusion Mix will keep your muscles guessing and your heart rate up for a sweat wrenching, sculpting session!




All the goodness of Barre packed into 45 minutes! Make the most of your workout and tone your body with this efficiently planned class, focusing on isolation and burnout, you'll be glad you came to our barre!




Put the pedal to the medal for 45-minutes of pure sweat. Spike your heart rate & burn fat with climbs, sprints and jumps for a hardcore calorie burn and full body workout.