Ami Kujawa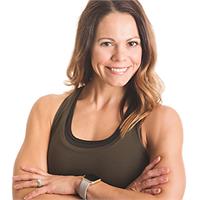 Ami Kujawa instructs the following:
BTW (buns thighs and waist) is structured to challenge your body in strength and cardiovascular endurance. This class requires ankles weights (available at Fusion). Maximizing the benefits of ankle weight suspension, we've created resistance training that is OUT OF THIS WORLD! Resistance training + cardio interval training will shock your body to the max with this excitin class. BTW you don't wanna miss it!




This powerful, quick-paced body sculpting class rapidly transitions through targeted sequences to elongate and tone your entire body. Our original creation, this class upholds high standards to challenge you beyond your limits! At only 45 minutes, this class has been shortened in time - but not in results!




This 45-minute class is a Hiit! Hustle your way through this high intensity interval training session. The perfect combination of cardio intervals and muscle-specific toning will vary your heart rate for max results. This class will create a calorie burn that lasts all day!




In it to win it! This 45-minute class leads off with 30 minutes of heart pumping bikini bootcamp and wraps with 15 minutes of total ab dedication. The full body workout without taking a full hour.




All the goodness of Barre packed into 45 minutes! Make the most of your workout and tone your body with this efficiently planned class, focusing on isolation and burnout, you'll be glad you came to our barre!




Max Out your muscles + Challenge your cardio vascular endurance. This class is interval based. Using 10 LB weights for dedicated movement to sculpt muscle. Interval cardio burst are interwined to burn fat. This class will increase muscle, joyfulness, and all over happiness!