Jaclyn Cheever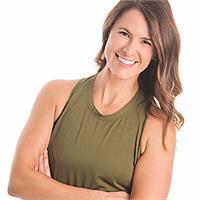 Jaclyn Cheever instructs the following:
In it to win it! This 45-minute class leads off with 30 minutes of heart pumping bikini bootcamp and wraps with 15 minutes of total ab dedication. The full body workout without taking a full hour.




Put the pedal to the medal for 45-minutes of pure sweat. Spike your heart rate & burn fat with climbs, sprints and jumps for a hardcore calorie burn and full body workout.




This 45-minute class is a Hiit! Hustle your way through this high intensity interval training session. The perfect combination of cardio intervals and muscle-specific toning will vary your heart rate for max results. This class will create a calorie burn that lasts all day!




Punch, kick and burn your way through this hot and sweaty class. Throw down 30 minutes of heart-pumping cardio followed by 30 minutes of technique-driven toning.




Theme Ride Thursday!! Join us for 45 minutes of fun on the bike. Each week has a new theme to keep your tunes fresh and your muscles tight!! See the theme for each week below:

Oct 4: Dolla Dolla Bills Ya'll
Pay day is around the corner and we are celebrating the manifestation of FULL bank accounts! Get in and embrace the feeling of abundance!


Oct 11: Breakup with Bieber
We love Bieber, but let's admit, he's found his true love, so we gotta move on! Celebrate his hits and probably some guest appearences from his past loves ;)


October 18: A Star is Born
Feeling obsessed with this soundtrack? Ya, us too! Get lifted, get through your emotions, ride them hard, and then let them go. Leave feeling unstobbable!


October 25: SPOOKED
We can't resist a good Halloween ride! Wear something fun and win a prize!